Workshops
The Saint Paul Yoga Center offers workshops and special events to provide additional learning opportunities for students.
To register for most workshops, please click here and look for the workshop you want to sign up for.
The Foot and Leg in Yoga: Mobility andStability, Foundations and Freedom (A Yoga Workshop with Julie Gudmestad)
Dates: Oct. 26-27, 2019

Cost: $200 for both days by Sept. 29, 2019
$220 for both days after Sept. 29, 2019
$105 for Sat. only or Sun. only by Sept. 29
$66 each for 3 hour AM classes
$44 each for 2 hour PM classes

Location/Times: Sat. 12:30 – 3:30pm and 5:00 – 7:00pm
Sunday: 10:00am – 1:00pm and 2:30 – 4:30pm in the Selby Studio
Teacher: Julie Gudmestad
The foot and leg form the foundation of all standing poses and
set the stage for the pose to open and grow upward. We also
need the feet and legs to complete the expansion in poses
where we aren't bearing weight on the feet. In this workshop,
Julie will incorporate just enough anatomy to increase
awareness of important foot and leg alignment in a variety of
poses.
The classes will build progressively from simple movements to
more challenging poses, inviting students to explore their
limits and learn new poses in a safe and supportive
environment. Students are encouraged to listen to their bodies
and practice at a level appropriate for their current abilities.
Teachers often appreciate Julie's sequencing and clarity of
instruction: her cues not only help students learn the poses,
but also learn how to incorporate normal movement patterns
to help avoid injury.
These will be active classes and therefore are not recommended
for people with severe problems or significantly
limited mobility. One year of yoga experience is suggested.
Because the workshop will build progressively from start to
finish, we strongly advise joining the workshop at the begin-
ning if at all possible.
This workshop is eligible for Yoga Alliance CEU's.
To Register: See instructions at the top of this page to take you to our Mindbody Workshops page. Register on that page. If you have any questions or issues with registration, please contact Paul Busch at 651-646-4656 or pobusch@msn.com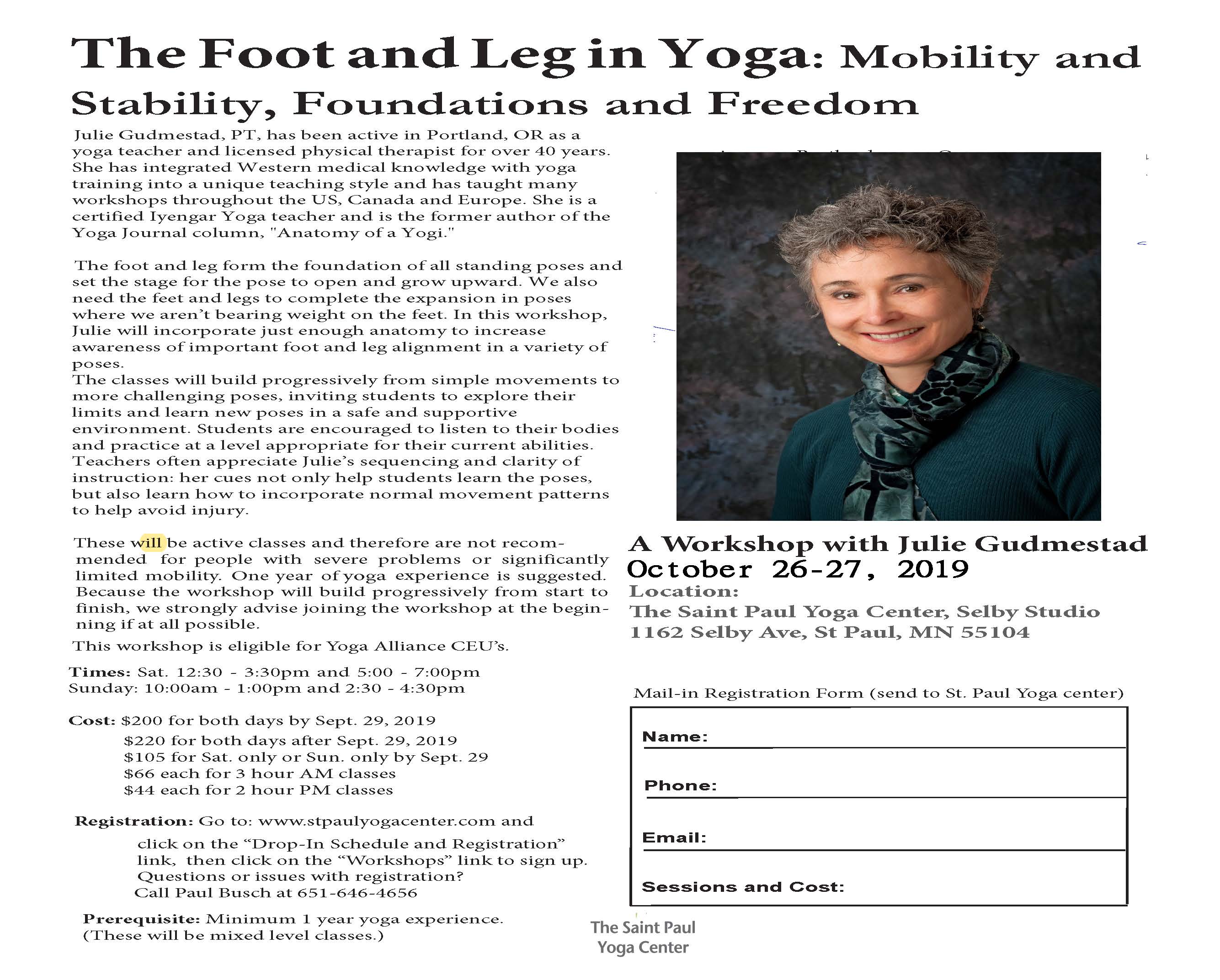 Introduction to Yoga Series
Dates: Wed. Sept. 4 through Wed. Oct. 9, 2019 (repeating every six weeks,sometimes with a short break between series)
Cost: $72 for the whole series. Single class drop-ins are $15
Location: The class will meet from 7:15-8:45 pm in the Corner Studio
Teacher: Paul Busch
This is a six-class series that will introduce the fundamentals of alignment, breathing and mindfulness in foundational yoga postures and will lay the basic groundwork for students to comfortably step into our drop-in classes. This series is intended as an entry-point for students who are brand-new to yoga and want to start right at the beginning, or for those with some experience who want to spend more time on the foundations of yoga practice.
For those new to yoga, we recommend taking the entire series. Experienced students who want to review fundamental principles of yoga are welcome to register for individual classes in the series at a drop-in rate of $15 per class.
To Register: See instructions at the top of this page to take you to our Mindbody Workshops page. Register on that page. If you have any questions or issues with registration, please contact Paul Busch at 651-646-4656 or pobusch@msn.com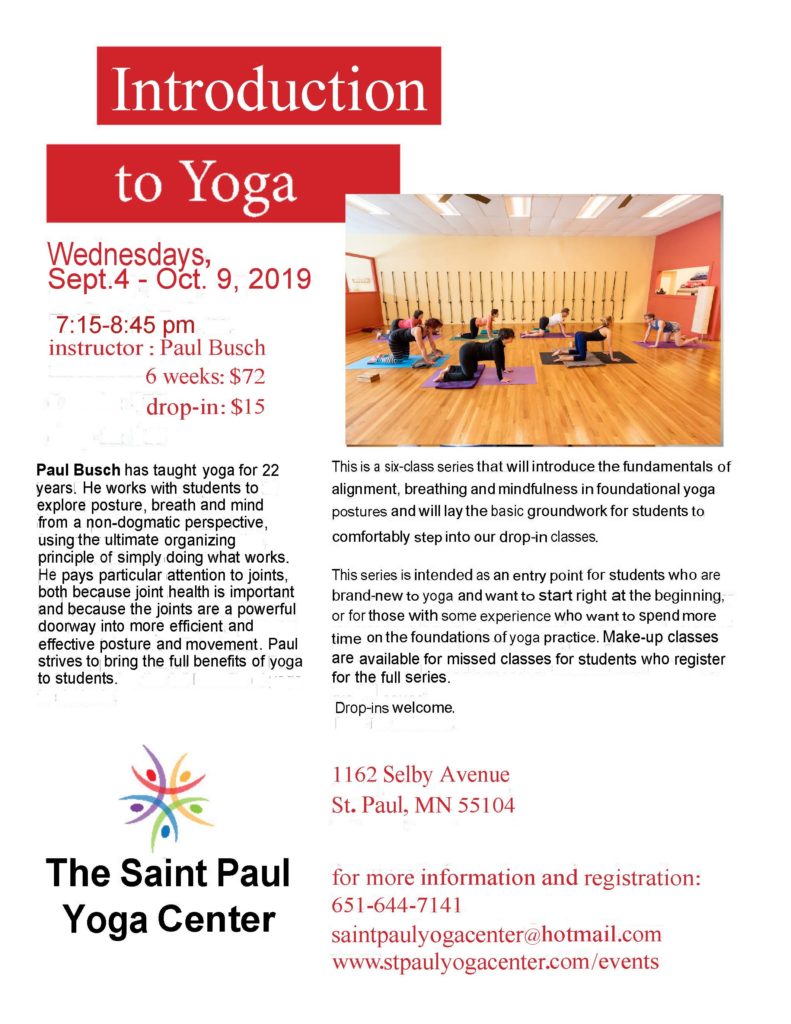 Kirtan Path at The St. Paul Yoga Center
Please join us for an evening of chanting the Name.
Open your heart to the rhythmic flow of call-and-response chanting and feel the energy of this powerful yogic practice.
"Love is the door, chanting is the key."
A love donation is appreciated, but no-one will be turned away for lack of funds. CDs are also for sale.
No previous experience is required, just show up. Song sheets will be provided.
Third-Saturday chanting:
May 18, Jul 20, Sep 21, Nov 16 at The St. Paul Yoga Center
7:30-9:00 pm
About the event: Kirtan is the sacred tradition of call-and-response chanting, brought to us from India. Kirtan is one of the principal activities of Bhakti Yoga (the path of devotion). The chants come from the Hindu tradition, but people of all faiths and cultural backgrounds participate in kirtan – it is in essence a meditation, repeating the names of the God, turning inward towards ourselves. We experience the energy and vibrations of communal singing, connecting to the Divine and each other, opening our hearts and quieting our minds. Everyone participating contributes to the experience, emanating loving energy to the universe.
About the artist: Kirtan Path has been singing with the greater Twin Cities kirtan community since 2009. They participated in several local festivals over the years, such as the Twin Cities Kirtan Festival, the Twin Cities Yoga Festival, India in Iowa, and the Inner Peace Festival. They were honored to sing at the Inaugural Bhakti Fest Midwest in 2012 where they were dubbed "Midwest wallah to watch" by the Bhakti Beat. They were re-invited to the 2013 and 2014 festivals. They released their debut CD, Samgayati – A Gathering in Song, in June 2013. In 2018, they played at the first annual Midwest Yoga and Kirtan fest in Madison, WI.
Kirtan Path currently consists of the wife/husband team Parvati (harmonium/vocals) and Doug (mrdanga). A regular guest musician, Aubrey, joins for the third-Saturday events every month (alternating between the St. Paul and Minneapolis locations).
For more details visit www.kirtanpath.com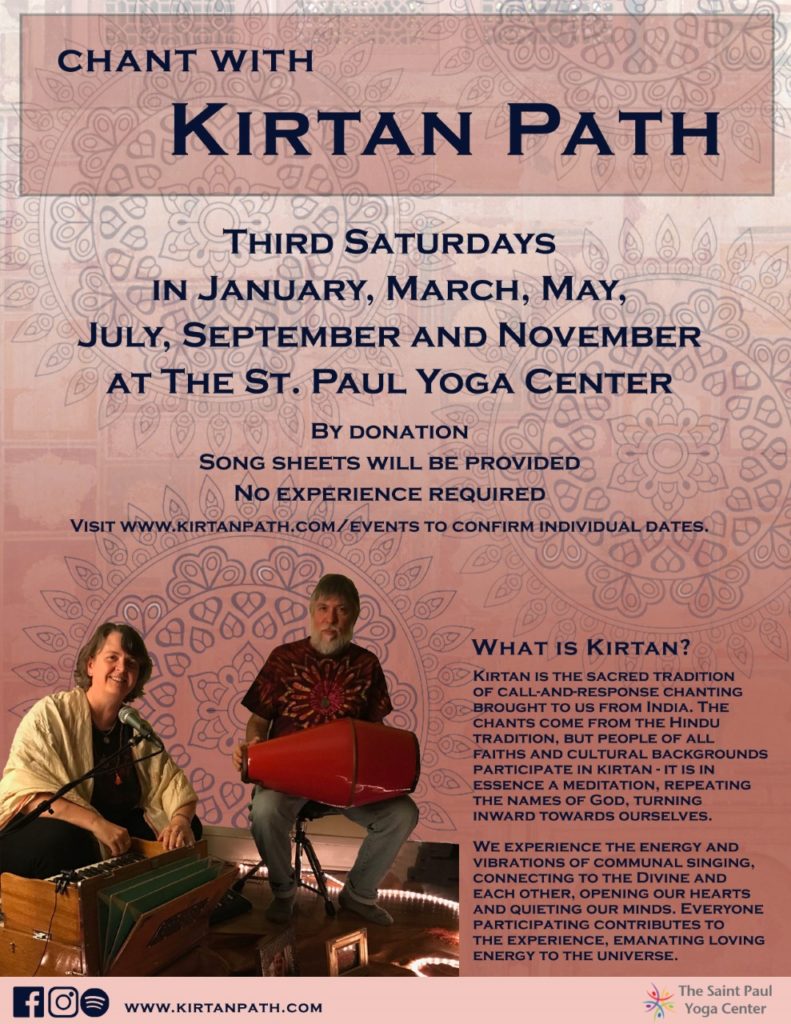 CranioSacral Therapy
The St. Paul Yoga Center is pleased to host a variety of CranioSacral Therapy Workshops, which are put on by the Heartwood Institute for Integrative Medicine.
Intro to CranioSacral Techniques and and CranioSacral Therapy I classes are open to all.
CranioSacral Therapy II and CranioSacral Therapy III are part of a continuing course, and have prior courses as a prerequisite.
For more information please visit the Heartwood Institute for Integrative Medicine website, or call Janet Berryhill at 651-773-9687.